How Startups Get Funding
Have you ever considered of thinking about how small companies become corporations in just a few years? Were you able to think about how the owners or the founders made their way to the top? All businesses start with nothing and the first few months are the most crucial for a business.
I am pretty sure that we've all heard of some business owners who have these grand rags to riches stories – and do you firmly believe them to be true? While most of it are filled with fluff and compelling narrations, some parts of it are true.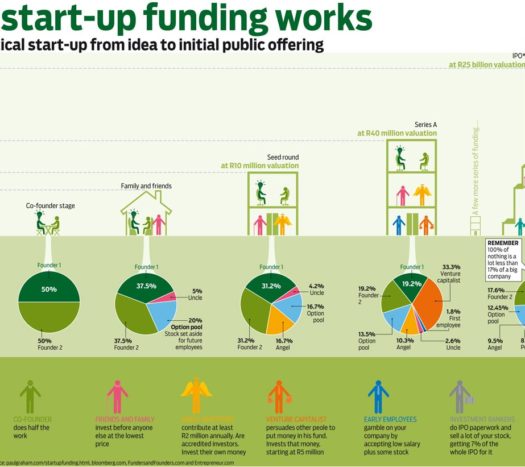 Here at SoFlo Funding, we love educating you on the funding process, whether you are a startup or an established business. So below are two of our preferred funding partners that we highly recommend. Fundwise Capital and David Allen Capital have provided the top funding solutions for thousands of entrepreneurs nationwide. You can read about them by clicking either of the two buttons below
Some Companies Start With Nothing
Ideas will be ideas unless there is execution. Take "Idea A" for instance. Idea A is an idea – it's not a start up; it's not a company, it's just an idea. When a person decides to take action, then that's when it becomes a startup. After pouring effort and sacrifices, where it might have investors already and cashflow starting to rain in, then that's already a rags to riches story.
Acquiring funding for startups is something we are eager to help small businesses and entrepreneurs with here at SoFlo Funding. We are the region's choice whenever they have wishes to finance or to fund their businesses.
Who We Are
We're the organization who does not only provide you with the funds you need for your startup companies or businesses; we can also give you the upper hand in terms of running the big idea you have.
SoFlo Funding is a company who would never waste a good idea – we will give you the financing and the funding you need so you can being with the startup you have in mind. Whether you're planning on starting a new business or you already have an existing one, we can help you by funding that!
Our goal is not just for us to make money or to acquire several small companies who ask help from us, but to help all our clients' businesses prosper. We may not be able to promise that we can help you up to the day you IPO, but we can promise that we'll always be with you during the hardest and the most difficult of times that your company or your startup needs financing.
What We Can Do For You
We have the commitment to help our entrepreneur and small business clients get the financing and funding they need for their business. But beyond that is something out of our control. We have a team of senior funding experts and advisors who are always ready to help you in terms of the funding you are going to acquire.
In addition to that, we've been in close relations with some of the most known names in the industry of business and investing. Unlike banks, we wouldn't be cutting a lot from your monthly revenues and profit – we ask fairly for repayment and our clients get the most out of the funding they get from us.
We have flexible repayment terms and payment would depend on your choice – where you're most comfortable!
Easier and Faster Transactions
Approval of your loan could be within the next 24 hours and the pre-approval of it is within minutes. No need to wait for weeks, and even months to get approved!
The release of the funds could be anytime between 2 to 3 weeks and it's sometimes even faster than that! Once you get approved, you don't have to go through the eye of the needle, it's going to be available and ready for your perusal. Whatever amount it may be, we have the analytics and processes that can help us determine the funding we can provide.
It's Not Just One-Time
Funding your company can be for many reasons and what we can guarantee you is that we wouldn't just approve you once. Given the data and statistics, if you ever feel the need to fund your business again, our company is open in assessing and checking your eligibility.
You don't need to have the best credit score and standing – we look at different factors and categories as well.
We Respect Privacy
SoFlo Funding's main strength is that we keep everything private. Having over tons of clients who come in each month, we are cautious in handling and in storing data from our clients. We utilize advanced encryption in all our transactions, making it impossible for infiltrators and cybercriminals to penetrate our system. We're secure and we treat everything with confidentiality.
If you are still wondering how startups get funding, trying us out can remove those thoughts and doubts. At SoFlo Funding, you can easily get the solution to finance and to fund your business without having to go out of your homes. You can apply within a few minutes and receive approval the next day!
Here at SoFlo Funding, we love educating you on the funding process, whether you are a startup or an established business. So below are two of our preferred funding partners that we highly recommend. Fundwise Capital and David Allen Capital have provided the top funding solutions for thousands of entrepreneurs nationwide. You can read about them by clicking either of the two buttons below
Below are some of the loan products that you will get from our company: