Merchant Cash Advance Bad Credit
Having poor or bad credit can definitely curb a business's capability of applying for loans. Especially now that a lot of businesses are experiencing problems with their credit standing, it's often considered as a battle if a business doesn't fall under the category of having "good credit."
Bad Credit and How it Affects Financing
As we all know, the credit score or standing is a way for banks and other lending institutions to determine what kind of payer a person or an entity is. If it falls under the category of a bad standing, then most likely, they keep on missing payments they're obliged to make.
With that, the credit standing is one of the best factors on how a certain person or a business can get approved of a loan. But how about people or businesses with bad or poor credit? How would they be able to get or secure funds for themselves or for their business?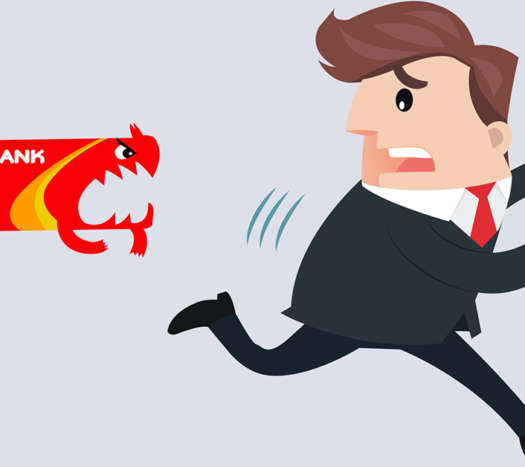 Here at SoFlo Funding, we love educating you on the funding process, whether you are a startup or an established business. So below are two of our preferred funding partners that we highly recommend. Fundwise Capital and David Allen Capital have provided the top funding solutions for thousands of entrepreneurs nationwide. You can read about them by clicking either of the two buttons below
Loan Alternatives
Thankfully, there are other options on how a business can get funds even if they have a bad credit. This is through secured loans from funding and lending companies, and by a merchant cash advance. Secured loans are the loans which have security, usually in a form of a collateral. This, however, doesn't guarantee approval but putting down a collateral can heighten the chances of one.
Aside from a secured loan, there's what we call a merchant cash advance. A merchant cash advance is a type of business funding that allows a certain business to acquire funds from a lender. In exchange, the business would be giving future sales to the lender with factor rates on top of it.
Unlike a secured loan, though, a merchant cash advance would look at the credit history of a certain business and that will be one of the most integral basis of whether or not they'll be approved. Through a merchant cash advance, even people or businesses with bad credit have the chance to get the funds they need!
Merchant Cash Advance with Bad Credit
A merchant cash advance is one way for business owners to get the funds they need with higher chances of approval – even if they're suffering from a plummeting credit score. The thing that lenders would want from a merchant cash advance would be future sales, that's why credit scores and credit standings would be less influential.
In the topic of cash advances, the interest rate is not called interest rates – instead, they're known as factor rates. Unlike interest rates, factor rates are expressed in decimals so instead of saying 15%, factor rates would be 1.5 points.
This rate would depend on several details like:
Age or tenure of the company
Industry of business
Monthly and annual revenue
Trajectory or projection of sales
These would be the factors on how much the factor rate will be for the MCA that you're looking forward to apply for.
So you're now safe with a merchant cash advance even if you have a poor or bad credit. Most usually, merchant cash advance bad credit clients get funds but with the highest factor rate, which is not bad for them.
Don't Want a Merchant Cash Advance?
What's important is that they got the funds they need and they can use it to improve and straighten their credit score or standing. If you think that a merchant cash advance is what you need but you think that the factor rates are more than what you're expecting, then you also have to option to approach lending institutions and companies like us here at SoFlo Funding.
SoFlo Funding is a company focused on helping businesses with the financial needs and obligations they might have. We're considered as the best and the most reliable lending company because in comparison to banks and the SBA, we don't need or require too much information or documentary requirements.
If we were to be paralleled with providers of merchant cash advances, however, our rates are considerably lower and more reasonable.
Get Your Funds With Us!
The processing time of our application would run any time within 15 minutes – and you can do it online! We don't have other forms that are not relevant; we'd only ask you to apply! What's more is that the funds that you need can be released in as fast as 21 days!
So you don't need to suffer if you're a merchant cash advance bad credit client, we at SoFlo Funding can help you fix your credit standing with us! We'll help you with any type of advance or loan you need – whether secured or unsecured, we are always open.
We've helped dozens of small businesses with their financial deeds and responsibilities and we never failed any of our clients. If you haven't tried our services yet, then it's time for you to! Work with us here at SoFlo Funding and never worry about raising funds either for personal emergencies or for your business again!
Here at SoFlo Funding, we love educating you on the funding process, whether you are a startup or an established business. So below are two of our preferred funding partners that we highly recommend. Fundwise Capital and David Allen Capital have provided the top funding solutions for thousands of entrepreneurs nationwide. You can read about them by clicking either of the two buttons below
Below are some of the loan products that you will get from our company: