Lines of Credit Loans
Differentiating what loans and lines of credit are can be difficult and confusing. Especially because both of them have a ton of similarities, it's really hard to distinguish. But there are actually several factors on how we can differentiate lines of credit from loans but before we go to that path, let's first discuss what both of them are.
Line of Credit Loans
Line of credit loans are the types of loans given to consumers and businesses if they need funds. Unlike a loan, a line of credit would have a revolving account – similar to how a credit card works – wherein the borrower can withdraw and take money from the account for it to be used.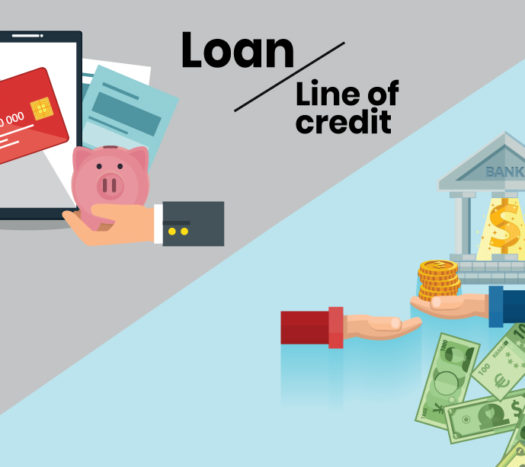 Here at SoFlo Funding, we love educating you on the funding process, whether you are a startup or an established business. So below are two of our preferred funding partners that we highly recommend. Fundwise Capital and David Allen Capital have provided the top funding solutions for thousands of entrepreneurs nationwide. You can read about them by clicking either of the two buttons below
When the borrower uses any amount from that revolving account, that is the only time he or she is required or obliged to pay for it with interest. Otherwise, there would be no interest held on the amount in the revolving account.
Regular Loans
A loan, on the other hand, is the more traditional approach in borrowing money. A loan is typically when a lender provides a borrower with the funds he or she needs under the agreement that the borrower needs to pay this back at a certain term with a finalized interest rate.
Usually, loans are amortized and this basically means that their payments would most likely be the same – and payments could be done every week, every two (2) weeks, or every month. Unlike lines of credit loans, regular loans would have a regular payment with interest on it. Regardless of whether the borrower spends it or not, because the amount is already in his account or pocket, he'd have to pay interest.
What's Better?
The topic of knowing which one is better would depend on a couple of factors – these include:
The amount that the borrower wishes to loan
The timeframe of when the loan is going to be paid back
What the funds will be used for
Typically, loans that involve lines of credit is better if a person plans on settling expenses and the borrower isn't certain of the amount he or she needs. Business lines of credit would be used to straighten out the cash flow of the business.
Whereas loans are good if a person is planning on purchasing a major property or asset like a real estate or a car – the same thing goes for a business.
Rate Difference Between Loans and Lines of Credit
Another thing worth mentioning would be the interest rate of loans versus the rates of lines of credit. Traditional loans would have a fixed interest rate, say 5 or 6% per year and as the years go on, it would be stagnant. On the other hand, lines of credit will be based off of variable rates would be based on the market plus interest.
So generally, lines of credit loans would be more costly and more expensive than how regular rates go and it can be confusing because it changes.
What You Should Choose
Are you a business owner looking for immediate funds to support your business? Or are you looking to purchase a lot, house, or a car and you're not sure how much you need? Don't worry, we here at SoFlo Funding can get you either a loan or a line of credit.
If you're left unsure and confused on what you should get, we offer them both so you don't have to worry. We have the best funding advisors, funding managers, and experts who can help you arrive at the most sensible and the most efficient option for your need of borrowing money.
SoFlo Funding Benefits
At SoFlo Funding, if you apply for lines of credit or for loans and you prefer to put a collateral down, then we can setup payments with 0 interest on the first few months of the loan. Unsecured loans and lines of credit, on the other hand, would not have this same feature. Nevertheless, the rates we have are competitive and it's something most people and most business owners look for.
Apply with us and apply with ease – we wouldn't require you to go through the hassle of traveling to far places just for you to secure funds. You can apply online and the results can come out in as early as 2 days!
We're the company that can provide the easiest application because the requirements and the qualifications we ask for are not at all strict! With our lines of credit loans or the regular loans, you can expect to save a lot of money for low interest rates compared to what other companies offer.
Work with us here at SoFlo Funding now and never worry about how you will be raising funds ever again! We'll provide the best and the lowest interest rates – that's a guarantee!
Here at SoFlo Funding, we love educating you on the funding process, whether you are a startup or an established business. So below are two of our preferred funding partners that we highly recommend. Fundwise Capital and David Allen Capital have provided the top funding solutions for thousands of entrepreneurs nationwide. You can read about them by clicking either of the two buttons below
Below are some of the loan products that you will get from our company: